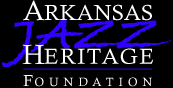 [ AJHF | About | Home | News | Dates | Artists | Archive ]
[ Facebook | Hall of Fame | Downloads | Board | Links | Donations | Memberships ]



Artists
[Arkansas Jazz Hall of Fame: 2014 | 2012 | 2010 | 2008 | 2006 | 2004 | 2002 | 2000 | 1998 | 1996 | 1995 | 1994]


The 2014 Hall of Fame was on Monday, June 16, 8 PM, and honored eight exceptional Arkansans who have made outstanding contributions to jazz in Arkansas and around the world.

The event was at the historic Afterthought, 2721 Kavanaugh, in Little Rock, AR, phone 591-663-1196. Admission was $20, which includes membership in the Arkansas Jazz Heritage Foundation.

The following honorees were included in the 2014 Arkansas Jazz Hall of Fame, based on their outstanding contributions to jazz music and their connection with Arkansas -

Richard Boone (posthumous), trombonist/vocalist [AMG ]
Martha Burks, vocalist [AMG ]
Carwin Pleasant, bassist, St. Louis, MO/Fayetteville, AR
Tom Richeson, trumpeter/educator, Houston, TX/Hot Springs, AR [UALR Bio]
Dave Rogers, percussionist, Little Rock AR [Bio ]
Robert Trezvant (posthumous), percussionist/vocalist [AMG ]
Joe Vick, bassist, Little Rock [UALR Bio]

For more information on the Arkansas Jazz Hall of Fame, contact AJHF President James Thomson at (501)225-2891, or email arjazzman@sbcglobal.net.

Note: AMG indicates inclusion in the All-Music Guide, a comprehensive musical database on the web, including discographies and reviews.

Candidates were chosen based upon the following criteria:


Candidate must be an Arkansas native or have established residence in Arkansas.


Candidates must have a history of significant accomplishments and/or contributions to the jazz arts. This may be within the State of Arkansas or on the national/international level. A candidate may be a musician, composer, educator, writer, or major contributor to the jazz field.


[Find related books and albums at the Foundation Store]

[Arkansas Jazz Hall of Fame: 2014 | 2012 | 2010 | 2008 | 2006 | 2004 | 2002 | 2000 | 1998 | 1996 | 1995 | 1994]
---
Arkansas Jazz Heritage Foundation · PO Box 251187 · Little Rock, AR 72225-1187 US · info@arjazz.org

Copyright © Arkansas Jazz Heritage Foundation. All rights reserved.
Information on AJHF and Jazz:
Comments on web site:
About this site. We appreciate those who have helped create this site.

URL: https://www.arjazz.org