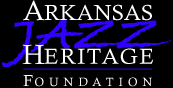 [ AJHF | About | Home | News | Dates | Artists | Archive ]
[ Facebook | Hall of Fame | Downloads | Board | Links | Donations | Memberships ]



About the Foundation
MISSION - With Articles of Incorporation received from the State of Arkansas on 7 January 1992, the Arkansas Jazz Heritage Foundation (which sponsors and maintains the Arkansas Jazz Hall of Fame) is an all-volunteer nonprofit dedicated to educating the general public about the historical significance of jazz in Arkansas. The Foundation presented its first Lifetime Achievement Award to Art Porter, Sr. in 1993 and established the Arkansas Jazz Hall of Fame in 1994. After 1995, induction ceremonies have been held only in even-numbered years. Information about inductees appears in the Hall of Fame, Artists, and Archive sections of this website.
MEMBERSHIP - Foundation membership is open to any adult interested in the preservation, celebration, and promotion of jazz in Arkansas; a completed, signed copy of the membership application (with a check for annual dues, payable in the amount of $20 on/before 1 July) should be mailed to the Arkansas Jazz Heritage Foundation, P. O. Box 251187, Little Rock, AR 72225-1187. Questions should be directed to James Thomson (1992 incorporator, current president) at arjazzman@sbcglobal.net or 501.225.2891.
COMMUNICATIONS - The Arkansas Jazz Heritage Foundation maintains a Facebook page, where several times each week AJHF Secretary Alita Mantels (alita.mantels@sbcglobal.net, 501.661.1604) posts announcements (often accompanied by photos/videos) related to jazz artists/events/venues in Arkansas. As Arkansas Editor for All About Jazz/Jazz Near You, she also posts details about venues and upcoming events at http://www.jazznearyou.com/.
---
Arkansas Jazz Heritage Foundation · PO Box 251187 · Little Rock, AR 72225-1187 US · info@arjazz.org

Copyright © Arkansas Jazz Heritage Foundation. All rights reserved.
Information on AJHF and Jazz:
Comments on web site:
About this site. We appreciate those who have helped create this site.

URL: https://www.arjazz.org