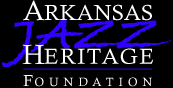 [ AJHF | About | Home | News | Dates | Artists | Archive ]
[ Facebook | Hall of Fame | Downloads | Board | Links | Donations | Memberships ]



Home
The Arkansas Jazz Heritage Foundation (AJHF) is a non-profit organization in Little Rock, Arkansas, dedicated to educating the general public about the historical significance of Arkansas' musical heritage. It occasionally sponsors jazz performances by musicians with Arkansas connections and educational clinics for high school and college musicians.

There are five main sections within this web site. Note that the header at the top of each page also contains links to the site's search engine, our set of jazz links, as well as other information.

One of the most active functions of the Foundation, through May 2011, has been Monday Jazz, under "Dates". This program concluded at the end of May 2011. We continue to present the Hall of Fame every two years, as well as other special events.


contains general foundation information, including contacts, membership application, and the the bylaws of the organization.
Most news items are on our facebook page, but we post a few announcements and some jazz-related websites.
contains schedules for events in Little Rock. We also have info on the earlier 2011 Monday Jazz evemts, the current info for the Hot Springs Jazz Society, Stardust Big Band, and the Northwest Arkansas Jazz Society, as well as recitals, other music dates, and some radio programs around the state.
contains the Arkansas Jazz Hall of Fame pages and other information about jazz musicians with Arkansas connections.
contains newsletters, press releases, out of date schedules and articles written by musicians and fans about jazz in Arkansas. Writers, we know you're out there! Let us know who you are. If you'd like to advertise an upcoming jazz event, send us a press release and we'll most likely post it.
---
Arkansas Jazz Heritage Foundation · PO Box 251187 · Little Rock, AR 72225-1187 US · info@arjazz.org

Copyright © Arkansas Jazz Heritage Foundation. All rights reserved.
Information on AJHF and Jazz:
Comments on web site:
About this site. We appreciate those who have helped create this site.

URL: https://www.arjazz.org