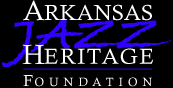 [ AJHF | About | Home | News | Dates | Artists | Archive ]
[ Facebook | Hall of Fame | Downloads | Board | Links | Donations | Memberships ]



Artists
[Arkansas Jazz Hall of Fame: 2014 | 2012 | 2010 | 2008 | 2006 | 2004 | 2002 | 2000 | 1998 | 1996 | 1995 | 1994]


The Hall of Fame Committee directed the foundation membership to vote from a selection of 11 names for candidacy in 1995, of which 5 were selected. This year's sixth name, Al Hibbler, was automatically selected by the Hall of Fame Committee for Lifetime Achievement. They were asked to choose candidates based upon the following criteria:


Candidate must be an Arkansas native or have established residence in Arkansas.


Candidate must have a history of significant accomplishments and/or contributions to the jazz arts. This may be within the State of Arkansas or on the national/international level. A candidate may be a musician, composer, educator, writer, or major contributor to the jazz field.


Election by the members of The Arkansas Jazz Heritage Foundation.


1995 Arkansas Jazz Hall of Fame Inductees [complete list]

1995 Arkansas Jazz Hall of Fame Candidates


Joe Bishop
Pat Davis
Al Hibbler
Bitsy Mullins
Walter Norris
Buck Powell
Notes from the 1995 Hall of Fame Election:

Arkansas Jazz Hall of Fame Night, June 10, 1995,7 P.M.
Capitol Keyboard Recital Hall, 13401 Chenal Parkway, Little Rock

Community Radio KABF 88.3 FM will broadcast special Arkansas Jazz Hall of Fame Spotlights on all the candidates daily through June 10, 1995 and KUAR 89.1 FM (Sunday on "52 Street Jazz" w/ John Cain, 9 to 12 p.m. ). Congratulations to the other six candidates for their nomination in 1995.

Only the current AJHF membership as of January 1, 1995 may vote for the Arkansas Jazz Hall of Fame. Included in this mailing is the 1995 Hall of Fame ballot.

Please try to return your ballot within three days of receipt. Those ballots not reaching AJHF by May 15, 1995 will not be counted. The ballots will be tabulated by Michael Cobb, CPA of Cobb and Suskie LTD. Results only given for the top five vote recipients. The five elected Hall of Fame members will be announced in the next Arkansas Jazz Calendar, and are to be inducted with Al Hibbler at the Annual Awards Ceremony and Concert on June 10, 1995 at Capitol Keyboard Recital Hall.

The following radio stations will broadcast special features on our Arkansas Jazz Hall of Fame candidates during the balloting period May 1 through May 15, 1995; KABF Radio 88.3 FM (Monday - Friday 9 to 12 a.m., Saturday 8 to 10 p.m., & Sunday morning from 9 to 12 p.m.) and KUAR 89.1 FM (Sundays on "52 Street Jazz" w/ John Cain, 9 to 12 p.m. ). Read, listen, and vote!

Return all ballots to Michael Cobb,CPA c/o Cobb & Suskie LTD, P.O. Box 21675 Little Rock, AR 72221 or hand deliver to Michael Cobb, CPA at One Financial Centre / Suite 400, Little Rock, AR (501) 225-2133. Your may also place in the ballot box at the May 1st, 8th, or 15th, 1995, Monday Jazz Project performances at the AfterThought, 2721 Kavanuagh, Little Rock (501) 663-5264.

Return all ballots by May 15, 1995 to Michael Cobb,CPA c/o Cobb & Suskie LTD, P.O. Box 21675 Little Rock, AR 72221 , hand deliver to Michael Cobb, CPA at One Financial Centre / Suite 400, Little Rock, AR (501) 225-2133, or bring to the ballot box at the May 1st, 8th, or 15th, 1995 Monday Jazz Project at the AfterThought.

[Find related books and albums at the Foundation Store]
[Arkansas Jazz Hall of Fame: 2014 | 2012 | 2010 | 2008 | 2006 | 2004 | 2002 | 2000 | 1998 | 1996 | 1995 | 1994]
---
Arkansas Jazz Heritage Foundation · PO Box 251187 · Little Rock, AR 72225-1187 US · info@arjazz.org

Copyright © Arkansas Jazz Heritage Foundation. All rights reserved.
Information on AJHF and Jazz:
Comments on web site:
About this site. We appreciate those who have helped create this site.

URL: https://www.arjazz.org