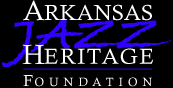 [ AJHF | About | Home | News | Dates | Artists | Archive ]
[ Facebook | Hall of Fame | Downloads | Board | Links | Donations | Memberships ]



Artists
[Arkansas Jazz Hall of Fame: 2014 | 2012 | 2010 | 2008 | 2006 | 2004 | 2002 | 2000 | 1998 | 1996 | 1995 | 1994]


The Arkansas Jazz Heritage Foundation held the 2006 Arkansas Jazz Hall of Fame on Saturday August 26, 2006, at Capitol Keyboard, 7:30pm. This was another outstanding evening. We're very fortunate to have the Sam Rivers Quartet perform at the Hall of Fame - a very special event!

The following were honored with induction into the Arkansas Jazz Hall of Fame, based on their outstanding contributions to jazz music and their connection with Arkansas -
More info is provided on each of the above here on the web site, and also at the Hall of Fame.

Tickets prices are $25 per person, or $200 for a table of 10. Contact for tickets is at this order form. For more information, contact Cece Rich at Capitol Keyboard, (501) 228-9999, or email James Thomson at james@arjazz.org.

Note: AMG indicates inclusion in the All-Music Guide, a comprehensive musical database on the web, including discographies and reviews.

Candidates were chosen based upon the following criteria:


Candidate must be an Arkansas native or have established residence in Arkansas.


Candidate must have a history of significant accomplishments and/or contributions to the jazz arts. This may be within the State of Arkansas or on the national/international level. A candidate may be a musician, composer, educator, writer, or major contributor to the jazz field.


Election by the members of The Arkansas Jazz Heritage Foundation.
[Find related books and albums at the Foundation Store]

[Arkansas Jazz Hall of Fame: 2014 | 2012 | 2010 | 2008 | 2006 | 2004 | 2002 | 2000 | 1998 | 1996 | 1995 | 1994]
---
Arkansas Jazz Heritage Foundation · PO Box 251187 · Little Rock, AR 72225-1187 US · info@arjazz.org

Copyright © Arkansas Jazz Heritage Foundation. All rights reserved.
Information on AJHF and Jazz:
Comments on web site:
About this site. We appreciate those who have helped create this site.

URL: https://www.arjazz.org