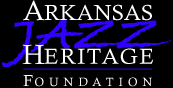 [ AJHF | About | Home | News | Dates | Artists | Archive ]
[ Facebook | Hall of Fame | Downloads | Board | Links | Donations | Memberships ]



Home
Foundation Store
in association with amazon.com
The Arkansas Jazz Heritage Foundation is a member of amazon.com's Associates program. Every time you buy a book or recording from our store, amazon.com handles the purchase and shipping. Amazon.com then contributes a percentage of the sale to the Foundation. That money will be used to continue and expand our education and performance efforts.

Here are a few things to know about amazon.com:


It's easy to order from amazon.com, over the phone or the Internet.


If you're buying a book or recording as a gift, amazon.com offers gift-wrapping, lets you add a gift message, and will ship books anywhere in the world.


amazon.com delivers excellent customer service and a wide range of shipping options to both U. S. and worldwide customers.


amazon.com offers customers a safe option for Internet purchases: The Netscape Secure Commerce Server, which encrypts any information they type in. If customers prefer not to submit their payment on the Internet, they can phone or fax their credit card number to us, or pay by check. Privacy is also very important, and amazon.com protects personal information as a matter of policy. We want to assure you that you can expect a secure purchase and that your personal information is safe.
Message from Jeff Bezos, Founder & CEO of amazon.com:

Amazon.com Associates list selected books in an editorial context that helps you choose the right books. We encourage you to visit the Arkansas Jazz Heritage Foundation web store often to see what new books they've selected for you.

Thank you for shopping with an amazon.com associate.

Sincerely,

Jeff Bezos
Founder & CEO
amazon.com

P.S. We guarantee you the same high level of customer service you would receive at amazon.com. If you have a question about an order you've placed, please don't hesitate to contact us.


[About our association with amazon.com]
[Ken Burns's Jazz | Hall of Fame | Books: [A-F | G-L | M-Z] | Special Order | Hard to Find | Amazon Delivers Jazz]
---
Arkansas Jazz Heritage Foundation · PO Box 251187 · Little Rock, AR 72225-1187 US · info@arjazz.org

Copyright © Arkansas Jazz Heritage Foundation. All rights reserved.
Information on AJHF and Jazz:
Comments on web site:
About this site. We appreciate those who have helped create this site.

URL: https://www.arjazz.org