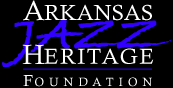 [ Arjazz | About | Home | Dates | Artists | Archive | Hall of Fame ]
[ Board | Links | Donate! | Search ]



Artists
[Arkansas Jazz Hall of Fame: 2014 | 2012 | 2010 | 2008 | 2006 | 2004 | 2002 | 2000 | 1998 | 1996 | 1995 | 1994]


The Arkansas Jazz Hall of Fame Committee has selected saxophonist Art Porter, Jr. to be honored with its Lifetime Achievement Award and automatic induction into the Arkansas Jazz Hall of Fame in 1988.

The Hall of Fame Committee asked that the foundation membership choose three (3) candidates for induction in 1998 into the Arkansas Jazz Hall of Fame.

1998 Arkansas Jazz Hall of Fame Inductees [complete list]

1998 Arkansas Jazz Hall of Fame Candidates


Bob Dorough
Bob Steele (posthumous)
John Stubblefield
Roseanna Vitro
Note: AMG indicates inclusion in the All-Music Guide, a comprehensive musical database on the web, including discographies and reviews. Jazz-Index is a bibliographic search service offered by the Jazz-Institut in Darmstadt, Germany.

Candidates were chosen based upon the following criteria:


Candidate must be an Arkansas native or have established residence in Arkansas.


Candidate must have a history of significant accomplishments and/or contributions to the jazz arts. This may be within the State of Arkansas or on the national/international level. A candidate may be a musician, composer, educator, writer, or major contributor to the jazz field.


Election by the members of The Arkansas Jazz Heritage Foundation.
[Find related books and albums at the Foundation Store]
[Arkansas Jazz Hall of Fame: 2014 | 2012 | 2010 | 2008 | 2006 | 2004 | 2002 | 2000 | 1998 | 1996 | 1995 | 1994]
---
Custom Search
---
Arkansas Jazz Heritage Foundation · PO Box 251187 · Little Rock, AR 72225-1187 US · info@arjazz.org

Copyright © Arkansas Jazz Heritage Foundation. All rights reserved.
Information on AJHF and Jazz:
Comments on web site:
About this site. We appreciate those who have helped create this site.

URL: http://www.arjazz.org/artists/hof/1998/index.html