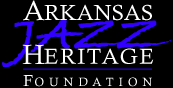 [ Arjazz | About | Home | Dates | Artists | Archive | Downloads | Hall of Fame ]
[ Facebook | Store | Ken Burns JAZZ | Board | Links | Donations | Memberships | Search ]



Artists
Art Porter, Jr.
The Hall of Fame Committee selected Art Porter, Jr. to receive the 1998 Arkansas Jazz Hall of Fame Lifetime Achievement Award, which includes automatic induction into the Hall of Fame.

Art Jr. had four albums to his credit: "Pocket City" (1992), "Straight To The Point" (1993), "Undercover" (1994), and "Lay Your Hands On Me" (1996).






Below is the obituary written by Gloria Lane shortly after his untimely death in 1996.
---
Art Porter Jr. Dies In Thailand Boating Accident

On Saturday November 23, 1996, Arthur Lee "Art" Porter Jr. died when the motor boat he and four others were in capsized during an outing in the Kratha Taek Reservoir, 150 miles northwest of Bangkok, Thailand. Porter was 35. It was reported that Porter was on his way to an island for dinner with friends, when the boat sprang a leak and sank. With no life preservers on the boat, only one person survived by swimming to shore. Porter was in Thailand to perform at the Thailand International Golden Jubilee Jazz Festival to commemorate the 50th anniversary of King Bhumibol Adulyadej's reign in Thailand.

Porter was born in Little Rock on August 3, 1961, to an extraordinary musical family. Art Jr. became a premier saxophone player and composer. His father, Art Porter Sr., was an outstanding musician and jazz pianist, much in demand in the local music venue. The death of Art Porter Sr. in 1993 was a great loss for Little Rock and the jazz community. Many recall hearing Art Jr. playing a poignant Amazing Grace on saxophone at his fathers funeral in 1993. Reminiscent of that, Eric Struthers offered a heartfelt performance of that song on electric guitar at Art Jr.'s funeral service. A good friend who shared music with Art, Eric was quoted as saying "There are not enough words to say how great he was. He was passionate about his music and never lost touch with the artistic side."

Art Porter Jr. grew up in Little Rock and began his music career at an early age under the tutelage of his father. His first audience was the congregation of Bethel A.M.E. Church. He played music with his sister and brothers as a teenager, and with his father. By age 15, he was playing alto saxophone and performed regularly throughout Little Rock. At age 16, he studied at the Berkeley School of Music in Boston. After graduating from Parkview High School, he moved to Chicago to attend Northeastern Illinois University where he graduated in 1986. Since that time, he has taught in the schools of Chicago, Illinois, and Gary Indiana. He started the Art Porter Quartet, which had a loyal following in the Chicago area.

As a popular musician whose star was rising, Porter attained wide popularity during his short lifetime. When Bill Clinton was in Arkansas, he was among the many fans of the Porter family. At one point when Art Jr. was a teenager, he was deemed too young to legally play in night clubs, even though he was playing with his father, Art Sr. Clinton helped pass legislation that would allow a minor to play in a night club if a parent or guardian was present. This became known as the Art Porter Bill.

As a long-time fan of the Porters, President Clinton said that his best memory of Art Porter Jr. was his performing with his father Art Sr. in the back yard of the Governor's Mansion. When Clinton won the 1993 Presidential election, Porter and his father collaborated to perform for the inauguration, playing the wonderful hymn Amazing Grace at the prayer breakfast and received a standing ovation.

Art Porter Jr. went on to share his music world wide, though still coming back to perform in the Little Rock area from time to time. Some of his notable performances include professional appearances at the Kool Jazz Festival, Notre Dame University, and recording with Ramsey Lewis. He has been at the Flamingo Hotel in Las Vegas, Nevada, taken European tours, been honored at the Music Festival of Arkansas (Fayetteville), and was invited to the North Sea Jazz Festival (Netherlands). He recorded four albums, his first in 1992, Pocket City. He also recorded Straight to the Point, Undercover, and his last album was Lay Your Hands on Me. He had a recording contract with Verve Records.

Porter is survived by his wife Barbi, two sons, Arthur Lee III (6 years) and Arrington (3 years), of Murfreesboro, Tennessee;his mother, Pauline Porter, two brothers, Reginald and Kenneth Porter, a sister Benita Porter Robinson, and many other relatives and friends. He brought great joy to family, friends, and all those who appreciated his great talent. He will be deeply missed.

Memorials may be made to the Art Porter Jr. Children's Education Fund, P.O. Box 166035, Little Rock, AR 72216.

[Find related books and albums at the Foundation Store]
[All-Music Guide | CDNow | Music Boulevard (obituary)]

[Arkansas Jazz Hall of Fame: 2014 | 2012 | 2010 | 2008 | 2006 | 2004 | 2002 | 2000 | 1998 | 1996 | 1995 | 1994]
---
Custom Search
---
Arkansas Jazz Heritage Foundation · PO Box 251187 · Little Rock, AR 72225-1187 US · info@arjazz.org

Copyright © Arkansas Jazz Heritage Foundation. All rights reserved.
Information on AJHF and Jazz:
Comments on web site:
About this site. We appreciate those who have helped create this site.

URL: https://www.arjazz.org/artists/hof/1998/98_porter.html