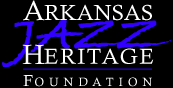 [ Arjazz | About | Home | Dates | Artists | Archive | Downloads | Hall of Fame ]
[ Facebook | Store | Ken Burns JAZZ | Board | Links | Donations | Memberships | Search ]


Special to the Democrat-Gazette - Jimmy Witherspoon of Gurdon

by Steve Koch
Little Rock, Arkansas





That Spoon, that Spoon, that Spoonful
Gurdon-born Jimmy Witherspoon walked a Musical Tightrope


"You know, thereās something Iāve been wanting to say for a long, long time. People walk up and they ask me, they say, ĪSpoon, what is the blues?ā Well, Iāve had Īem, for a long, long time. Started in a little old town down in Gurdon, Arkansas ·."


-- Jimmy Witherspoon, "Testifying"


Perhaps due to its central position amid the geographic crossroads of practically every type of music, Arkansas has been home to some of the worldās best genre-busters and style-straddlers Š Johnny Cash, Louis Jordan, Sister Rosetta Tharpe and Harold "Conway Twitty" Jenkins, to name but a few.

But few Arkansas musicians Š save, perhaps, Charlie Rich Š walked the musical tightrope over the worlds of R&B, soul, jazz, blues and rock as nimbly as Gurdon-born vocalist Jimmy Witherspoon.

"āSpoon" was born Aug. 8 (18?), 1923, in Clark County to Leonard and Eva Witherspoon. His mother, was, by all accounts, a religious woman.

In his 1970 song "Testifying," nearly 10 minutes of autobiography with a beat, he sings of his first church experiences in Arkansas: "I used to see the preacher jump up on top of the table, peopleād start to shouting. As a matter of fact, Iāve got a scar on my head now, when I was laying in my motherās lap asleep, and she got a little happy Š bop! And there I went."

The man who would be Spoon testifies of his departure from the south to the west coast this way in "Testifyin":

"· I came on out to California. You talking about tough! People talk about New York, Chicago, that aināt nothing. Los Angeles is tough. I used to wait for people to throw out a transfer so I could get downtown to try to get me a job. Finally, I got a job. Working in a drug store. Washing dishes, slinging trays. You got to have rhythm to do that, too, you just canāt sling a tray! ·"

From there, he joined the Merchant Marines. Stationed for a time in Calcutta, India, he began sitting in with jazz pianist Teddy Weatherford and his orchestra, with some of the performances being broadcast over the Armed Forces Radio Service. According to one vintage album jacketās notes, the association with Weatherford "seemed to bring it all to a head."

" · I heard some blues there [in Calcutta] at the Grand Hotel that I never heard before. And thatās where I started singing the blues. ..."

Career-wise, what *really* brought it all to a head was when Witherspoon returned to America and joined the Jay McShann band in the mid-1940s after leaving the Merchant Marines.

"Jumpinā" Jay McShannās band Š the group that gave the world Charlie Parker Š was regarded as Count Basieās only serious rival in Kansas City. McShann had recently lost his singer, Walter "Confessinā the Blues" Brown, with whom the band had hits for the Decca label in the early 1940s.

ĪSpoon sang with McShann for the next three years. During this time, the group recorded for several labels, including Modern, Mercury, Supreme and Aladdin -- where it cheekily recut the McShann/Walter Brown signature song, "Confessinā the Blues."

By the end of the 1940s, however, Witherspoon would have his own signature song. Originally recorded by Bessie Smith a few months before Witherspoon was born in 1923, "Aināt Nobodyās Business" stayed on the charts for 34 weeks in 1949, and established the 26 year-old Arkansawyer. The song enabled, and probably caused, Spoon to go solo, which he did that same year. He signed to the Modern label, with whom he would stay for three years, and logged another hit with "Big Fine Girl" b/w "No Rollinā Blues" before landing for 18 months at Federal under the wing of Ralph Bass (who would sign James Brown in a few years).

"· I started singing the blues. My mother told me ĪSon, you shouldnāt sing those dirty songs. Youāre going to hell.ā Š you see my mother was a very religious woman. I was going to hell until I made ĪAināt Nobodyās Businessā and I sold a million copies. Then, Jimmy Witherspoon was her baby ·."

From 1954 to 1956, Witherspoon recorded for Chicagoās famed blues label, Chess. "This short three-year span saw Chess record and release material by artists like Muddy Waters, Howlinā Wolf, Chuck Berry, Little Walter, Willie Dixon and Sonny Boy Williamson;" *Living Blues* magazineās Mary Katherine Aldin wrote of Witherspoon.

"Since most of Witherspoonās recordings fell into the crack between blues and jazz, the almost non-existent Chess marketing strategy Š Īletās put it out and see if by any chance it sellsā Š never quite solved the problem. · Witherspoon had already enjoyed his biggest chart success · the Chess brothers may have thought his name alone would sell records; they were, unfortunately, wrong."

Neither the previous success of "Nobodyās Business" nor that of the rest of the Chess roster spelled success for Witherspoonās Chess output. The material, save for a few singles, remained unreleased until the 1990s.

In 1956, he recorded an album of blues standards for Atlantic, which was already solidifying its reputation as the premiere rhythm and blues label, and a rock Īnā roll album for the Atlantic subsidiary Atco. The late 1950s saw release of a couple of Witherspoon jazz albums, and a reunion with Jay McShann on RCA Victor. None of the recordings reached the commercial apex of "Nobodyās Business," but few artists of the decade could point to a more eclectic output -- even during the musically morphing 1950s.

ĪSpoonās wartime collaboration with Teddy Weatherford may have Ībrought it all to a head,ā but little information on Jimmy Witherspoon fails to mention his Oct. 2, 1959, appearance at the Monterey Jazz Festival -- with an all-star band including Coleman Hawkins, Earl "Fatha" Hines, Woody Herman, Ben Webster and Roy Eldridge -- as a turning point in the Spoon Īreemergence,ā although he had never really gone away.

The resulting album, with its cast of jazzās top heavyweights, and another recorded with Webster and Gerry Mulligan at the Renaissance Club in Los Angeles (Dec. 2 and 9, 1959), have rarely been out of print in the four decades since their release.

The 1960s saw Witherspoon continue toe-dipping into different styles: In 1963, he recorded a loose session with one of the founders of electric blues guitar, T-Bone Walker; while the following year in Stockholm, he cut a schmaltzy, string-laden release of standards like "Iām Sorry" that is somehow surprisingly listenable.

He appeared on the Steve Allen show and PBSās "Jazz Casual" in 1963, the Canadian Broadcasting Networkās "Quest" in 1964, ABCās "Shindig" in 1965 and WGBHās "Jazz Scene USA" in Boston in 1967, among other TV appearances, and toured Europe frequently through the latter half of the 1960s (appearing in the 1961 Belgian film short "Buck Clayton and His All-Stars," among other radio and TV dates), while recording for the Prestige and Verve labels.

As the 1960s ended and 1970s began, Spoon waxed a trio of rock-oriented LPs for BluesWay/ABC with white blues-rock players like guitarists Joe Walsh, Harvey Mandel and drummers Jim Keltner and Russ Kunkel, in addition to blues greats like Earl Hooker and Charles Brown, covering current rock Īnā roll hits like Rod Stewartās "Handbags and Gladrags" and The Bandās "The Night They Drove Old Dixie Down." In 1971, he recorded a rock album called *Guilty* with British Invasion singer Eric Burdon and members of War, with whom he also toured.

In the early 1970s, Witherspoon hosted a radio show series on Los Angelesās KMET, appeared on PBSās syndicated "Soul" (1971), recorded for United Artists label and recorded with Groove Holmes on Olympic. In 1974, he starred in the blaxploitation film *The Black Godfather,* the first and most notable part of his spotty acting career (*see sidebar*), as well as appearing at the Monterey Jazz Festival, on "The Tonight Show" and "The Midnight Special."
In 1975, he hit with Robben Ford and "Love is a Five-Lettered Word." In 1976 -- a year in which he also toured Canada, Germany and Switzerland (appearing on BBC2ās "Music From Montreux") -- Spoon again collaborated with a member of War. This time, for an off-the-cuff, stripped-down blues album with guitarist Howard Scott, which wasnāt released until some years later as *American Blues*. "My father, Mikel Scott, was an excellent blues player," Scott said. "Like Jimmy, he came from Arkansas, so when Jimmy asked me to play with him, I did it the way my father would interpret the blues, and it was easy for me."

Besides his distinctive, throaty vocal, ĪSpoon is credited with "percussion" Š stomping on a plywood board -- while Warās famed harmonica player, Lee Oskar, contributes to one track, "Roam & Ramble," written and sung by Scott. "I wrote that for my father at the time of his death in 1973," Scott said. "I played it for him the night he passed away Š he smiled when he heard it."

"· I ran into a lotta, lotta phonies who was trying to lose their identity. So, consequently, I damn near became a wino. I had to drink to even sing because of this complex I had. So finally, I went to Sweden, and I when I got off the plane that morning, they met me like I was president of the United States. And ever since then, I can sing the blues with dignity. Iāve been in the House of Commons in England, Iāve worked with the Rolling Stones, Dizzy Gillespie, the late great Charlie Parker, T-Bone, the great Joe Turner."

"· As a matter of fact, I go the blues right now. And if yaāll let me, Iād just want to sing one verse, just the way I feel: ĪI have had my fun, if I donāt get well no more/I have had my fun, if I donāt get well no more/My health is failing, and now Iām going down slow ·."

With a wide-ranging and busy schedule, Witherspoon remained active when many of his contemporaries were settling down and dying off. Pictured often on LP jackets with cigarette in hand or mouth, he overcame throat cancer in the early 1980s.

By the 1990s, Jimmy Witherspoon had long since achieved statesman status.

He was winner of the NAACP Image Award (1975), was an *Ebony* magazine Hall of Fame inductee (1977), won *Melody Maker* magazineās readers and critics polls for top blues singer (1965),*Downbeat* magazineās International Jazz Critics Poll for, ironically enough, New Star Male Vocalist in 1961 Š long after his career had began Š and again in 1968.

And in June 1996, Witherspoon was awarded the Arthur L. Porter Lifetime Achievement award, given by the Arkansas Jazz Heritage Foundation, and was to be guest of honor at the organizationās annual Hall of Fame banquet in Little Rock. ĪSpoon didnāt show.

"Heās not here, and I donāt know why. Thatās all I can say," AJHF President Cece Rich said at the ceremony. In a follow-up July 1996 interview with this very reporter, Rich said that Witherspoon had cashed in his plane ticket, and no one in the group had heard from him. The award was given to Jerry Horne of Pine Bluffās Band Museum, where it still rests (???).

The next fall, on Sept. 18, 1997, Witherspoon died in Los Angeles.

"· If you see my mother, tell her not to waste her tears/If you see my mother, tell her not to waste her tears/āCause I lived so fast and reckless, and Iāve shortened my own years."



SIDEBAR:
Screen Spoon
In addition to his many radio and television performances in America and abroad, Jimmy Witherspoon also tried his hand at acting, most notably in the 1974 John Evans blaxploitation movie "The Black Godfather," starring as Big Nate Williamson.

His handful of subsequent roles were smaller, but more mainstream:
"Willa," a 1979 TV movie starring Cloris Leachman, Corey Feldman, Diane Ladd and Hank Williams Jr. as himself.

Percy in 1990ās "To Sleep With Anger," starring Danny Glover, also featuring Cotton Plant native Sister Rosetta Tharpe on the soundtrack. Spoon sings "C.C. Rider."
1995ās "Georgia" with Mare Winningham and Jennifer Jason Leigh, where Spoon, appearing as the enigmatic "Trucker," does a rave-up of "Aināt Nobodyās Business," then disappears, but is referred to throughout this pointless film.
Considering Gurdon, population XXXX, is also home of Daniel (Best known as Niles the butler on TVās "Nanny") Davis, it can claim a peculiarly high per capita of world-seen thespian natives.

[Articles | Obituaries | Press Releases | Research | Schedules | NAJS]
---
---
Arkansas Jazz Heritage Foundation · PO Box 251187 · Little Rock, AR 72225-1187 US · info@arjazz.org

Copyright © Arkansas Jazz Heritage Foundation. All rights reserved.
Information on AJHF and Jazz:
Comments on web site:
About this site. We appreciate those who have helped create this site.

URL: https://www.arjazz.org