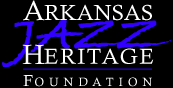 [ Arjazz | About | Home | Dates | Artists | Archive | Downloads | Hall of Fame ]
[ Facebook | Store | Ken Burns JAZZ | Board | Links | Donations | Memberships | Search ]


February 1990 - Nightflying Column (Ampside Chat) - Hermeto Pascoal
by Lee Tomboulian
Love is blind
Ray Charles is blind
Stevie Wonder is blind
Even Hermeto the albino really doesn't see very well

-Caetano Veloso, "Estrangeiro"
Yes, Caetano, your Brazilian countryman Hermeto is an albino, with long kinked white hair parted in the middle, and horn-rimmed glasses. He plays most instruments - saxes, clarinet, guitar - and invents others (tuned apple juice bottles). Brazilians who don't know his bizarre music, know him, much as Americans know John Cage. Like Cage, he loves to experiment: several of his compositions consist of an excited sportscaster announcing a soccer match in Portuguese, harmonized with baritone horn and harmonium. He is self-taught, yet he is obstreperously knowledgeable about music, much like Frank Zappa. Also like Frank, he's very prolific. He's Hermeto Pascoal, who has more life to him than any fifty people you know, and it's all in the music.

One illustration might be the time Hermeto and his group appeared at the inauguration of Berklee School of Music's then brand-new Performing Arts Center. He was in the middle of a scorching solo on a Fender-Rhodes electric piano. Suddenly his eyes got huge and he jumped up, screamed, "It's a TOY, It's a TOY...," picked up the piano (some 150 pounds) over his head and threw it across the stage, where it made a large hole in the nice new floor several feet from the seat of the President of the University, Lee Berk. He's been to the states since then but not back to Berklee.

He's even recorded with that noted curmudgeon, Miles Davis, on the album Live/Evil, doing his song Little Church, whistling and playing organ. Yet, someone as original as Hermeto could not stay a sideman with anyone for long, even with the great Miles.

When I told my friend Steve about buying Hermeto's new CD, Only If You Don't Want It, You Can't Do It, he said, "Well, how is it, abrasive and irritating?" Yes. And gorgeous, harmonically. And exciting rhythmically. And just plain beautiful as on "Afternoon Song", when dozens of over-dubbed flugelhorns (all played by Hermeto as you probably guessed) provide a deep red backdrop to a sad, pretty melody played by plucked instruments. Even when he's dissonant and abrasive, it seems like it's for a purpose, some logical end to which he's trying to break through. And often, that struggle is energized and fed by samba and "forro" rhythms and earth sounds like dogs barking or parrots screeching in rhythm. For every raucous piece like "Papageno vai" (the parrot tune), there's a ravishing melody like "Santa Catarina," all flowing flutes, and piano with wax paper on the strings, and the sound of water, with the whole band proclaiming their praise of Saint Catherine at the end: "Mia Santa Catarina!"

If this sounds crazy, or like a world unto itself, it is. He and his band rehearse every day at his house. Yet, Hermeto will emerge to make a statement, if a statement must be made. He won't make videos, yet he appeared in the ecological protest video "Sinfonia de Mato Grosso" (Symphony of Mato Grosso) where he and his band are shown marching with tubas and such through the streets to the edge of the rain forest. There they stand deadly still with their instruments while the rain forest is cut down all around them. A few dissonant notes might be forgiven in this context.


He sits where the kings sit
He no give a shit
Rested from the circle of her love
He roars and sizzles and soars above

- Bob Moses, "Poem for Hermeto"

[Articles | Obituaries | Press Releases | Research | Schedules | NAJS]
---
---
Arkansas Jazz Heritage Foundation · PO Box 251187 · Little Rock, AR 72225-1187 US · info@arjazz.org

Copyright © Arkansas Jazz Heritage Foundation. All rights reserved.
Information on AJHF and Jazz:
Comments on web site:
About this site. We appreciate those who have helped create this site.

URL: https://www.arjazz.org