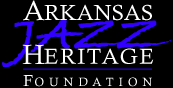 [ Arjazz | About | Home | Dates | Artists | Archive | Downloads | Hall of Fame ]
[ Facebook | Store | Ken Burns JAZZ | Board | Links | Donations | Memberships | Search ]



Article
February 28, 1998
What's Happened In The Last Forty Years Of Jazz?

Jerry Atkins

As you can imagine, I have a lot of jazz books and I was recently re-reading one out of the fifties titled "The Book of Jazz - From Then Till Now" Mostly the writer, Leonard Feather, deals with jazz's instruments, performers, composers, and its future. Of course at this time we hadn't heard of the Beatles or Elvis. Bill Haley and his Comets had released a highly successful recording of "Rock Around the Clock." I believe it was also featured in a movie and this was leading more people to a new style of rhythm and blues. It definitely was setting some trends that drifted away from the beat of jazz. I remember the time quite well. Strange that in the book this new happening was ignored. Maybe the author didn't take it seriously, but what an impact it was to have on the music world.

The author decided to pick a date of 1984 (some 30 years in the future) and asked a lot of jazz musicians what they thought jazz would be like at that time. Bear in mind that this projection was for twelve years ago. Duke Ellington said, "nobody's going to worry about whether it's jazz, symphony boogie-woogie, or folk music. The categories will be abolished." He added, "I'm often accused of not being myself, when somebody hears a record of something I wrote in 1927 and they come back in 1957 and expect me to be writing the same thing." He was asked if he thought the 12-bar harmonic pattern for the blues would still be played the same way. His reply, "Yes, I think so because the blues hasn't shown any weakness yet - that's America. You know how thin the line is between jazz and other music already. Twenty-five years from now it's just going to be that much more so. Just one big music, with everybody believing exactly what I've always believed -- that if it sounds good, then it's good music."

Woody Herman made this statement, "As for the experimental jazz of today, only time can tell. Twenty-five years from now the people who are around will know whether it had any true value or not." The now avant garde composer, Jimmy Giuffre, stated, "Microfilm tape and movies combined to play on your TV set will have replaced records to a large extent. The LP will bow to tape. Degrees in jazz will be given in most colleges." Cannonball Adderley said, "The future of jazz depends on how wisely we treat it today." From Dizzy Gillespie, Louis Armstrong, Benny Goodman, and some others, there was a consensus that classical music and its musicians along with jazz musicians would move closer together in their forms and often perform together.

Quincy Jones stated, "Bop, the death of which was gleefully and erroneously signaled by its opponents in the early 50's, is more alive today than ever. It has become a part of the very blood-stream of contemporary jazz. Its innovations are heard in the performances of every young soloist. The critics will begin to dismiss it as of minor importance and not really jazz at all; by 1990 it will be classified under "Popular Music."

Composer and trumpeter, Don Ellis, was among the most articulate spokesmen for the avant-garde movement in jazz..He was asked if he believed that by 1990 jazz would be accepted as a classic music in itself, with its own traditions, its own prestige and standing in society at large. His reply, "No, not in the same sense as traditional classical music. This rhythmic element, which is absent from classical music of all kinds, is a very emotional, physical thing that makes jazz more acceptable as a popular music."

Ellis continued," As for the so-called free-form music, it is hampered by the fact that a lot of the young musicians playing it are not bothering to learn anything about the legitimate technique of playing their instruments. Instead of learning about form, melody, harmony and organization, they just get up and express themselves. This is one way of achieving something new, but the results most of the time are just not interesting, not worthwhile or meaningful. This must be realized, because too many people are saying to themselves, this is interesting, something important, when in reality they are fooling themselves. They are really bored to death, and afraid to admit it; or perhaps they enjoy being bored which is even more tragic." The final question asked of Don was, "Do you believe that in 1990 jazz will survive as a distinctive, unique and clearly identifiable musical form?" "Definitely" said Ellis. "I think it would be a tragedy if it didn't."

The author and respected critic, Feather (who died last year), stated "The early jazz, which can be examined by musicians only in terms of antiquity and nostalgic interest, is giving way to a music that has been maturing rapidly during the past decade. He quotes Chaucer:

     For out of olde feldes, as men seith
     Cometh al this newe corn fro yeer to yere
     And out of olde bokes, in good feith
     Cometh all this new science that men lere.
			

The old English is fairly easy to interpret to mean that music evolves and while the old is good, there must be new creativity. I have some observations to make from these predictions of forty years ago. As expected, nobody was exactly right. Nobody seems to foresee the rise of rock, electronics, rap, funk, and all the other forms that would capture the mass listening audience. A 1994 article that appeared in American Demographics stated, "Americans' music tastes are broadening, according to a new Census Bureau study. "Country" has slipped but remains America's favorite music. Rock and roll still defines a generation gap, while blues, jazz, and classical music has also grown in popularity. Despite many demographic divisions, the survey shows that consumers like a variety of music." At least 30% of mature Americans say that at some time they listen to jazz, or whatever they think is jazz. That's encouraging and may or may not be true. I think it was Dizzy Gillespie who said that jazz would never please the masses. He said if it did then it probably wasn't any good.

If you'll go back and read Don Ellis's remarks, I personally think that he was the most perceptive. The problem is that not much has changed in those forty years to separate the invalid from the valid. Each listener must do that for himself. I guess it's sort of like watching bad TV. How much of it can you stand? Are you enjoying it and learning something or just passing time?

More soon.

[Articles | Obituaries | Press Releases | Research | Schedules | NAJS]
---
---
Arkansas Jazz Heritage Foundation · PO Box 251187 · Little Rock, AR 72225-1187 US · info@arjazz.org

Copyright © Arkansas Jazz Heritage Foundation. All rights reserved.
Information on AJHF and Jazz:
Comments on web site:
About this site. We appreciate those who have helped create this site.

URL: https://www.arjazz.org